Most-Wanted Episodes, and Runners-Up
Based on the listings at http://www.emailman.com/video/fugitive/fugitiveguide.html (from program listings of the A&E cable network) and at http://www.negia.net/~dgoggans/fuge.html, with kind assistance from Brian J.E. VanDommele, Marie Sunny and Rick O'Shay.


---
Fourth-season episodes ( September 13, 1966 - August 29, 1967 ) --- IN COLOR!
First Season • Second Season • Third Season
---

THE LAST OASIS
September 13, 1966
(91) A wounded Kimble finds refuge in an Indian school run by Hope Lange... but not for long! Written by Barry Orringer.


DEATH IS THE DOOR PRIZE
September 20, 1966
(92) Kimble risks his life trying to save an innocent man from a murder rap. Written by Oliver Crawford.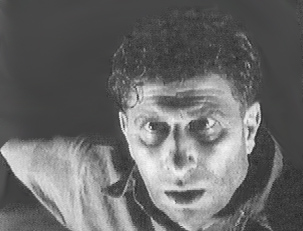 A CLEAN AND QUIET TOWN


September 27, 1966
(93) One-armed man Bill Raisch tries to get Kimble rubbed out by mobsters. When this fails, he goes after Kimble himself in a dark alley, trying to kill him single-handedly, as it were. In fact, Raisch is shown trying to strangle Kimble by using his good arm to press Kimble's throat against his stump. But Kimble wins the fight and drags the one-armed man into the nearest police station, charging him with the murder of his wife! Unfortunately, it's not a real police station; the cops are actually all in the employ of the head mobster of the town. Instead of calling up Lieutenant Gerard, they drive Kimble and Raisch up to the mansion of the don, who chastises them both for being such bad boys and bringing unruliness to the town. They won't turn Kimble in, since this violates their code of honor; nor will they allow Kimble to turn in Raisch. Instead, they decide to let both of them go free, but they also decree that the one-armed man will be given a 24-hour head start on Kimble. Kimble defies this decree and an exciting car chase over mountainous roads ensues, but the one-armed man gets away. This is a substantive, fascinating expansion of the show's themes; Kimble takes his story to yet another subset of American society, the underworld. A pretty monstrous portrait of the one-armed man emerges before the backdrop of this vivid context, where the one-armed man has a logical home. The story is suspenseful and full of twists, up to the final car chase. But Kimble here is just a victim; he fails to set an example of righteousness for the wrongthinkers around him, who are portrayed as incorrigible. Written by Howard Browne.


THE SHARP EDGE OF CHIVALRY
October 4, 1966
(94) Kimble becomes the chief suspect in the murder of a young woman in a big-city apartment building. This is about the blackest, most hopeless predicament ever for Kimble. He seems certain to get blamed for another crime. Implausibly, Gerard also shows up, though he has no good reason to suspect that Kimble is in the area. Things just get worse and worse until, at the very last minute, there is a sudden miraculous resolution and the real killer is caught. The suspense is pretty contrived, especially the murder scene, which is filmed in a dopy pseudo-Psycho style. Written by Sam Ross.


TEN THOUSAND PIECES OF SILVER
October 11, 1966
(95) Kimble tries to teach a slow farm girl how to read, over objections of her parents; another fugitive, a bad guy, takes Kimble and the girl hostage. They hide in a cave, but Gerard comes looking for them. It turns out that the newly instituted $10,000 reward on Kimble's head hinders Gerard as much as it helps him. Greedy people are reluctant to call in the cops when they spot Kimble. Out of fear that they will have to split the reward, they keep Kimble's secret until they are sure they will get credit for capturing him. Gerard shows his high-minded contempt for the self-serving individuals who would turn Kimble in just to make some money, while at the same time demonstrating his ruthlessness to get Kimble. But there is no scene between Gerard and Kimble. There isn't much suspense either, but there are many beautifully photographed landscapes. Kimble behaves decently towards the farm girl and her family, but doesn't exactly sacrifice himself. Also, the character of the girl is too facile. Written by E. Arthur Kean and Wilton Schiller.


JOSHUA'S KINGDOM
October 18, 1966
(96) Kimble gets involved with an unwed mother (Kim Darby) and her deathly ill baby. Harry Townes is her dad, a Bible-thumping bad guy. Written by Leo Loeb.


SECOND SIGHT
October 25, 1966
(97) Blinded by an explosion, Kimble escapes into a world of darkness. As in ESCAPE INTO BLACK, the one-armed man is on hand to bedevil Kimble in his moment of weakness. Written by Dan Ullman.


WINE IS A TRAITOR
November 1, 1966
(98) An ambush puts Kimble in the hands of the police when he gets involved in a murder plot at a vineyard. With James Gregory and Roy Thinnes. Written by Arthur Dales.


APPROACH WITH CARE
November 8, 1966
(99) This is the one where a full-grown hyperactive man named Willie wants to join the carnival where Kimble works. Kimble talks him into returning home to his sister (who does not want to take care of him since she would rather have a social life than read comic books to her dangerously violent brother). Willie runs away again and rejoins Kimble. The sister and a doctor from the crazy house (played by that awful actor from Hill Street Blues whose catch-phrase was ``Hey . . . Let's be careful out there'') come to fetch Willie and lock him up. Conveniently, the doctor recognizes Kimble, having interned with him years before or something --- and the chase is on! Kimble and Willie escape in a carny truck and hide out in a junk yard. Knowing he can't take Willie with him, Kimble phones the sister to pick up her brother and waits for her to arrive. The cops tail the sister to the junk yard and close in. In the improbable climax, Kimble, after being knocked unconscious in a fight with Willie, somehow manages to awaken while a freaked-out Willie distracts the cops by throwing things at them. For some reason, the good doctor fails to step out of his hiding place to minister to Willie's wounds when a cop accidentally shoots him. Willie dies, thus adding to the fourth season's rather high body count, while Kimble slips off into the night. So much for that Hippocratic oath jazz. Written by Leo Loeb.


NOBODY LOSES ALL THE TIME
November 15, 1966
(100) Kimble poses as a doctor in a hospital after some catastrophe leaves the hospital short-handed. When Gerard comes looking for him, he's helped to escape by a nurse who likes him. In fact, he gets away plausibly on two separate occasions, engaging in a credible, suspenseful battle of wits with Gerard. Kimble meets the one-armed man's girlfriend! In fact, he rescues her when the one-armed man abandons her in order to get away from Kimble. But later, the girlfriend helps the one-armed man escape from Kimble. Thus the one-armed man's situation mirrors that of Kimble; they are both aided in their attempts to escape from their respective pursuers. Written by E. Arthur Kean.


RIGHT IN THE MIDDLE OF THE SEASON
November 22, 1966
(101) Kimble runs afoul of striking fishermen in California. With Dean Jagger and James Callahan. Written by Sam Ross.


THE DEVIL'S DISCIPLES
November 29, 1966
(102) Kimble is set up as the fall guy by a murderous motorcycle gang. Written by Jeri Emmett, Steven W. Carabatos.


THE BLESSINGS OF LIBERTY
December 6, 1966
(103) Written by Dan Ullman. Kimble moves in with a doctor who's also on the run, because he's an illegal immigrant. A patriotic episode.


THE EVIL MEN DO
December 13, 1966
(104) In Pennsylvania, Kimble works as a horse groomer for James Daly, who turns out to be a mob boss. When Daly finds out that Kimble is on the run from Lieutenant Gerard, he lures Gerard to an abandoned warehouse and stalks him with a rifle. But Kimble warns Gerard, and they both flee from the would-be assassin, trading quips along the way in a great sarcastic colloquy. Kimble displays a near-divine self-assurance as he sets out to rescue his enemy from the clutches of a trained killer, and his unswerving commitment to the forces of Good teaches a wrong-thinker (Daly's girlfriend or something) the error of her ways. Gerard though, who at other times possesses the penetrating insight of a Hercule Poirot, in this story comes off more like a hapless Inspector Clouseau. He is completely at the mercy first of Daly's character, and then of Kimble. In spite of all the stalking and shooting in the climax, there's not much in the way of suspense in this episode. Written by Walter Brough.


RUN THE MAN DOWN
December 20, 1966
(105) Kimble is shanghaied into a helping wounded criminal in a house in the middle of a beautiful forest. Ed Asner is the leader of the criminal's gang. Written by Fred Freiberger and Barry Orringer.

THE OTHER SIDE OF THE COIN


December 27, 1966
(106) Beau Bridges is sheriff John Larch's larcenous son. Kimble seems doomed though to take the blame for Beau's hold-up of a small-town market. Instead though there is a fine melodramatic scene in which Beau and John Larch confront each other and realize the errors of their ways. The generation gap is bridged in a moment of vintage '60s sentimentality, and Larch is now so full of the milk of human kindness that he hides Kimble in the trunk of his car to get him safely through a roadblock. The story is affectingly simple and John Larch twists his face into amazing expressions of pathos and grief. Kimble is merely a passive victim, and doesn't really get the chance to do any of his usual good deeds in this episode. Written by Sam Ross.


THE ONE THAT GOT AWAY
January 3, 1967
(107) Kimble is ensnared in an embezzlement plot. With Charles Bronson as a government agent and Anne Francis. Written by Philip Saltzman and Harry Kronman.

CONCRETE EVIDENCE


January 10, 1967
(108) Written by Jeri Emmett and Jack Turley. Jack Warden and Celeste Holm are a married couple with a tragedy in their past. They run a construction business, and on one of their jobs, many years before, Jack cut too many corners and a building collapsed, killing and maiming many people, including their own child. Now he is at work on a new project, which everyone thinks is going to be another greedy real estate scheme. The townsfolk want to stop him because they resent him for causing the previous disaster. Celeste is also estranged from him. But Kimble saves the day by revealing Jack's secret. It turns out that he is dying, and before he goes he wants to repent for his sins; that's why he's building this new project, which is really a hospital that will provide desperately needed health care to the community. He didn't reveal this to anyone because he is a proud man, and besides, if he had, there would have been no melodrama! Jack and Celeste are both really great, though the wardrobe department should perhaps have given her a less see-through blouse.


THE BREAKING OF THE HABIT
January 17, 1967
(109) Kimble again crosses paths with Sister Veronica, the kindly nun from ANGELS TRAVEL ON LONELY ROADS, who is now close to death's door. She is running a home for delinquent girls in San Francisco, and Kimble ends up helping some of her wrong-thinking charges return to the path of righteousness. Written by John Meredyth Lucas.


THERE GOES THE BALLGAME
January 24, 1967
(110) A trip to the ballpark turns into a nightmare for Kimble when he becomes the witness to a kidnapping. Written by Oliver Crawford.

THE IVY MAZE


January 31, 1967
(111) One-armed man Bill Raisch becomes the unwitting subject of dream research by Kimble's pal (William Windom). After Raisch confesses to the murder of Helen Kimble, only two things stand in the way of Kimble's freedom: Lieutenant Gerard and a fateful vat of sulfuric acid! Written by Edward C. Hume.


GOODBYE MY LOVE
February 7, 1967
(112) Kimble's crush on a devious singer may prove his downfall. Written by Leo Loeb.


PASSAGE TO HELENA
February 14, 1967
(113) Kimble is caught in a survival struggle between a young racist condemned for murder and a black sheriff (Percy Rodriguez). The sheriff has taken both of them prisoner, but they escape, and Kimble's loyalties are divided; can he manage to help the sheriff catch the real criminal while staying free himself? Of course he can, amazingly enough! The drama is played out before a gorgeous scenic backdrop that is supposed to be somewhere in Montana. Written by Barry Orringer.


THE SAVAGE STREET
February 21, 1967
(114) While working for Gilbert Roland, Kimble's secret comes out and he has to lay low in a kid's clubhouse. Gilbert initially wants to turn Kimble in, but then he comes around and risks his own safety to help Kimble escape. Written by Jeri Emmett and Mario Alcade.


DEATH OF A VERY SMALL KILLER
February 28, 1967
(115) In Mexico, an old colleague of Kimble's, Arthur Hill, is researching a strain of meningitis that has been the scourge of the local villagers. He has big plans for curing the disease, but Kimble is not convinced and thinks Arthur is playing God with the trusting campesinos. It turns out, rather unsurprisingly, that Arthur is dying; in fact, he has contracted the very disease he is trying to cure. Though Arthur tries to blackmail Kimble into helping with his experiments for a while, in the end, on his deathbed, he repents and shields Kimble from a Mexican cop, Felipo Gerardo, who wants to capture el fugitivo. Kimble is also aided by Arthur's ravishingly beautiful Latin assistant, who bids him an amorous farewell beneath the palm trees of the Pacific shore. Arthur meanwhile is resurrected to fight further viruses a few years later in The Andromeda Strain. Written by Barry Orringer.

DOSSIER ON A DIPLOMAT


March 7, 1967
(116) In Washington, D.C., Kimble is given diplomatic sanctuary by an African ambassador who accepts Kimble on faith, but, of course, is about to die. Gerard shows up and threatens to extradite Kimble! Meanwhile Kimble is consulting with a lawyer who has publicly advertised that he thinks he can get him a new trial, but that doesn't pan out. The ambassador's wife is embarrassed to have Kimble skulking around the embassy, but she's powerless to move against him until the ambassador takes a turn for the worse. As he gets wheeled out on a stretcher, she announces that the embassy is closing and so everyone has to leave, Kimble included. They pack up all the furniture, with Gerard waiting outside for Kimble to come out. But Kimble's escape is made possible, in a cute twist, by embassy secretary Diana Hyland, who is soft on him. Apart from this ending, there's not too much suspense, but the dying-man melodrama is milked for all it's worth, with an excellent background score rich in evocative leitmotifs. Kimble here is merely a victim, he has no real opportunity to display the moral superiority that makes his predicament oh so ironic. Written by Jeri Emmett.

WALLS OF NIGHT


March 14, 1967
(117) Janice Rule is a lady with a past; she fell in with a bad crowd and got arrested, now she spends her nights and weekends in prison, but they let her out during the day to work. She tries to run to Canada with Kimble, who is driving a rig for the trucking company she works at. They cruise through idyllic scenery, filmed beautifully in color, and get as far as Washington, but then Janice falls asleep and Kimble takes her back home, lecturing her, ironically enough, about how important it is to respect the law. Meanwhile the cops have found out who Kimble is and so he is risking his life to take her back. But amazingly, he escapes at the last minute, and, as the cops surround the truck, Janice bursts into tears. She gives a very believable, emotionally involving performance as another one of Kimble's female admirers. Written by Lawrence Lewis Goldman.


THE SHATTERED SILENCE
March 21, 1967
(118) Laurence Naismith is an eccentric old hermit, the umpteenth dying man to appear on the show. The hermit takes a liking to Kimble, plays chess with him and doesn't want to let him leave his shack in the woods. There's not much suspense but loads of the great scenery and soft sentimentality characteristic of the color season. Kimble also finds time to have a little one-night stand before meeting up with Naismith. Written by Ralph Goodman and Barry Orringer. Directed by none other than Barry Morse!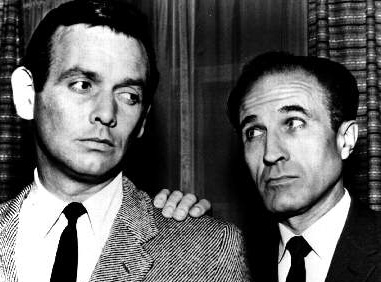 THE JUDGMENT
August 22 - 29, 1967

(119 and 120) Written by George Eckstein, directed by Don Medford. Kimble is in Arizona when he gets a tip that the one-armed man was arrested in L.A. He hightails it over there, but Gerard has heard about the arrest too, so he's in town looking for Kimble. Kimble meets up with an old friend from his hometown of Stafford, who of course has always been secretly in love with him. She helps him escape from the cops at an open-air market in L.A., in a scene which provides more or less the only suspense of the entire two-part episode. Temporarily stymied in his pursuit of Kimble, Gerard figures he might as well kill a little time by practicing his interrogating skills on the one-armed man, but the one-armed man knows his Miranda rights. Still, Gerard is suspicious of him, and starts to think there may be something to Kimble's old story after all.

Michael Constantine plays a sleazeball of an attorney who posts bail to spring the one-armed man. The money to spring him, it turns out, came from someone in Stafford. The one-armed man does away with Constantine and heads for Stafford, apparently to meet up with his anonymous benefactor. Kimble, who is holed up in his latest paramour's hotel room, decides to follow him there, but Gerard, who is no fool, has been watching this woman, and so when Kimble emerges from the hotel room to get in a cab, Gerard nabs him. Thus ends the first part.

At the start of the second part, it's like déja vu all over again as Kimble and Gerard are seen riding along in a train en route back to Stafford. Kimble convinces Gerard to make a deal with him. Gerard agrees to give him 24 hours to find the one-armed man and prove his own innocence.

That's where things start going downhill plotwise. The one-armed man meets up with a neighbor of Kimble's, played by J. D. Cannon --- the one who bailed the one-armed man out of jail. J. D. has something to lose if the one-armed man talks. It turns out that he was in the Kimble house on the night when Helen Kimble was murdered! This improbable story is recounted in a series of ridiculous flashbacks, where all the action is filmed with the camera tilted at an angle, like the scenes in the bad guys' lairs on Batman. On the night of the murder, Kimble's wife, Helen, is seen asking neighbor J. D. to come over and comfort her after her fateful argument with Richard. J. D. shows up, and while they are talking in the bedroom, they hear sounds of an intruder downstairs. Mrs. Kimble goes down and surprises the one-armed man as he is ransacking the living room. She gets into a scuffle with him, and he overpowers her, kills her and flees. Meanwhile, J. D. is standing at the top of the stairs the whole time, witnessing the murder, but paralyzed with fear, and hence unable to rescue Kimble's wife. He doesn't step forward when Kimble is on trial, because if he did, everyone would know he had acted like a coward, which would really hurt his reputation as a great war hero or something.

To safeguard J. D.'s reputation once and for all, the one-armed man, who is the only living witness to his cowardice, must be done away with. After one unsuccessful attempt to knock him off, J. D. schedules a rendezvous with him at an amusement park. Gerard and Kimble meanwhile, working as a team, have managed to puzzle out what J. D. is up to, and so they race over to the amusement park as well, to head him off. Kimble ends up chasing the one-armed man onto a water tower, atop which the two of them duke it out in the climactic scene. Kimble demands to know why the one-armed man killed his wife. ``Because she wouldn't let me up,'' he says. Indeed, in the flashback it kind of looks like an accident; the one-armed man just grabs for the nearest thing to defend himself against Kimble's wife, who is fighting him like a banshee. It turns out to be a lamp, which he hits over her head. This is of course a crass contradiction of the previously established story line, according to which Kimble's wife was strangled to death.

The one-armed man manages to gain the upper hand in his battle with Kimble on the water tower, and seems about to choke him to death, but then a shot rings out. Kimble's nemesis, mortally wounded, plunges to the ground. Gerard is the one who pulled the trigger; he has now saved Kimble's life, repaying him for at least one of the five occasions on which Kimble saved Gerard. But how will Kimble clear his name now? That's where deus ex machina J. D. comes barging in. He agrees to testify to the effect that he saw the one-armed man kill Helen Kimble. In the epilogue, Kimble emerges from the courthouse after having been acquitted at a new trial. Gerard lamely shakes hands with him, and then Kimble walks off with his rather insipid love interest, presumably to return to his peaceful small-town lifestyle. Meanwhile, J. D. is so impressed with all this law-enforcement stuff that he decides to move to New York to become a police detective, and is later joined by Dennis Weaver for more mystery and hijinks.

What a bungling anti-climax! At the very least, Gerard should have been the one to vindicate Kimble; Fate should have arranged for him to overhear the one-armed man's confession --- for example, after the one-armed man had somehow gotten Kimble at his mercy, and was boasting to him about his crimes before killing him... Instead, this lame excuse for a conclusion to the series betrays the promise of four seasons, completely missing the mark.



---

Back to HOMEPAGE OF THE HUNTED <http://unchance.net/Fugitive>

---
Created and maintained by Joseph Rosenzweig, fugitive-owner@yahoogroups.com