Most-Wanted Episodes, and Runners-Up
Based on the listings at http://www.emailman.com/video/fugitive/fugitiveguide.html (from program listings of the A&E cable network) and at http://www.negia.net/~dgoggans/fuge.html, with kind assistance from Brian J.E. VanDommele, Marie Sunny and Rick O'Shay.


---
First-season episodes ( September 17, 1963 - April 21, 1964 )
Second Season • Third Season • Fourth Season
---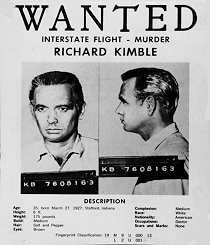 FEAR IN A DESERT CITY
September 17, 1963
(1) While working as a bartender in Arizona, Kimble tries to help a woman (Vera Miles) who he works with and her young son, who are being harassed by a local big-shot (Brian Keith). Harry Townes plays a scary cop who gives Kimble a hard time because he's in the big-shot's pocket, but he doesn't realize Kimble is wanted for murder, even though he walks right by Kimble's mug shot at headquarters. At the end, the big-shot is killed by the police when he threatens the woman and Kimble with a gun at a bus station. At the beginning of the last episode, THE JUDGMENT, Kimble is again in Arizona. Written by Stanford Whitmore.


THE WITCH


September 24, 1963
(2) In Missouri, Kimble is suspected of molesting a child (Gina Gillespie) in a backwoods community populated by great craggy-faced character actors, including Elisha (Maltese Falcon) Cook as Sailor. Towards the end Kimble gets a cut over one eye that makes him look sort of like Spock from Star Trek. Apart from this distraction, the suspense is pretty intense. Finally, the Bad Seed who at first accused him recants and pleads for his life in a teary scene. He has helped her learn the error of her ways, and the townsfolk decide he's okay after all. Written by William D. Gordon, directed by Andrew McCullough.


THE OTHER SIDE OF THE MOUNTAIN
October 1, 1963
(3) At first it's another one of these nightmarish backwoods towns that Kimble blunders into, and has to flee from. Then he meets incredibly cute hillbilly Sandy Dennis, who leads him over the mountains to safety, falls for him, and does a lot of method acting. Written by Harry Kronman.

NEVER WAVE GOODBYE


October 8 - 15, 1963
(4 and 5) In California, Kimble befriends an old sailmaker and his cute blond niece (Susan Oliver), but the sailmaker's assistant, played by Robert Duvall with an awesome Scandinavian accent, suspects Kimble is not all he's cracked up to be. The old man likens Kimble's persecution to the Nazi occupation of his homeland. The first part is capped by the brilliantly suspenseful Hall of Justice sequence (imitated in the 1993 movie), culminating in Kimble's incredible escape using two Los Angeles municipal buses. At the end of the second part, Kimble has his first of many opportunities to save Gerard's life after a chase on the high seas off the California coast. With Bert Remsen and Rachel Ames. Written by Hank Searls.


DECISION IN THE RING
October 22, 1963
(6) Written by Arthur Weiss, directed by Robert Ellis Miller (The Heart Is A Lonely Hunter). Kimble works as a cut man for a black prize fighter, and discovers that the fighter ought to quit boxing because he is getting his brain knocked around too much. The fighter's wife, Ruby Dee, agrees. Then the fighter helps Kimble by shielding him from his pursuers. Kimble, always a good example of the strong silent type, in this episode outdoes himself, convincing the fighter to help him by uttering just three one-word sentences. There is the obligatory '60s moralizing about race relations. With James Dunn as the fight manager.


SMOKE SCREEN
October 29, 1963
(7) Kimble gets caught up in a forest fire. Written by John D. F. Black.

SEE HOLLYWOOD AND DIE


November 5, 1963
(8) In a small town in New Mexico, Kimble is working in a gas station. Two trigger-happy hoods show up and blow away Kimble's kindly boss, also wounding a friendly cop who comes along at the wrong moment. They take Kimble hostage, along with Brenda Vaccaro, who only wanted to get her windshield cleaned. The four of them go on a cross-country spree, ending up in L.A. Showing his resourcefulness, Kimble pretends to be a hard-boiled robber himself, in order to gain the confidence of the two hoods and get the upper hand in the situation. Meanwhile he secretly reassures Brenda, telling her that he will protect her. The cops follow their trail and dust for fingerprints; when they realize that Kimble is in the car, they put out an A.P.B. and notify the newspapers, who print a picture of Kimble on the front page. The hoods buy the paper and are impressed with Kimble's criminal credentials, but Brenda freaks out and tries to make a break for it. Hence they decide to do in Brenda, but Kimble cleverly manipulates them into the hands of the police, making them think that they are going to be his partners in an imaginary robbery. He saves Brenda and makes his escape, but ironically, when the cops show up, they tell Brenda that she's lucky Kimble didn't hurt her, since he was, in their opinion, the worst of the lot. The story is engrossing and there is a fascinating sense of existential play-acting as Kimble assumes the villainous role which society has projected on him. In a remarkable scene, Kimble pretends to make out with Brenda to prove his prowess to the hoods; inside the car, he and Brenda go through the motions, but they are actually talking about how they plan to escape, while outside, one hood presses his nose against the front windshield, watching them like fish in a fishbowl. In another scene, Kimble pretends to be talking to his criminal accomplice for the benefit of the eavesdropping kidnappers, but in fact he is notifying the police of their whereabouts. The whole premise of course is pretty sexist, though. Written by George Eckstein, directed by Andrew McCullough.


TICKET TO ALASKA
November 12, 1963
(9) Kimble is aboard a luxury liner for murder on the high seas. Geraldine Brooks turns out to be the killer. Kimble plays Sherlock Holmes so that the case can be solved before the ship reaches land, thus ruling himself out as a potential suspect and avoiding police scrutiny. Written by Oliver Crawford.


FATSO
November 19, 1963
(10) Kimble befriends a rancher (Jack Weston). With Glenda Farrell. Written by Robert Pirosh.

NIGHTMARE AT NORTHOAK


November 26, 1963
(11) Possibly the best episode. While wandering through the woods, Kimble rescues a busload of little kids when their schoolbus crashes in an accident. He even saves the old driver just before the bus explodes in flames. Kimble gets knocked out though and has to recuperate from these heroics. They take him to the house of the parents of one of the kids from the bus. An eager-beaver local reporter takes a picture of Kimble while he's lying there unconscious, with a cold compress or something over his eyes. Faster than you can say ``relentless pursuit,'' Lieutenant Gerard has arrived on the scene; it seems that he spends all his free time scanning small-town papers around America, looking for pictures of Richard Kimble. Though his boss is skeptical, Gerard is sure the man in the photo is Kimble, even though half his face is covered with a cloth. Kimble tries to make a break for it, but he's still too weak. What's worse, the father of the kid whose house Kimble has been taken to (Frank Overton) is the local sheriff! There is a tense scene between Kimble and the sheriff's wife. Kimble appeals to her for mercy, asks her to help him get away. She though has been brought up to respect the law piously, so she refuses, and Kimble is hauled off to the local jail. Gerard takes charge of the prisoner, and he and Kimble have an excellent exchange through the bars of Kimble's cell, Gerard scorning Kimble's assertions of his innocence, while Kimble is contemptuous of Gerard's narrow-mindedness. Before heading back to Indiana, though, Gerard decides to enjoy a home-cooked meal chez the sheriff and his wife. But his dinner conversation, which is all about how relentlessly he has pursued Kimble, makes everyone else lose their appetites. The poor kid whose life Kimble saved bursts into tears. Meanwhile, the sheriff's wife is on the horns of her moral dilemma; should she abide by the law or act on the higher commandment of ``a life for a life''? After dinner, all the townsfolk, whose children Kimble has rescued, come down to the jail to say goodbye to him. They file past his cell under the watchful eye of Gerard, reaching through the bars to shake his hand. At the end of the procession, the sheriff's wife reaches out to touch his hand, and when she is gone, Kimble discovers that he has been given the key to the jail cell he is in. Later that night, Gerard comes to check on Kimble, but the cell is empty. Kimble is hiding in the neighboring cell, and, when Gerard isn't looking, Kimble knocks him unconscious and takes his gun. Amazingly, nobody else is anywhere near the jail except for one stupefied deputy who Kimble locks up with Gerard, brandishing the gun. Then Kimble is free to run off across the town square, escaping! Apart from this ridiculous ending, the episode is a gripping distillation of the drama of Kimble's situation, depicting the fateful irony whereby Kimble, free-lance do-gooder and all-around righteous man, is hunted by the law as a criminal pariah. There is some scenic New-England-esque photography of the woods around the town, contrasting with a series of visually intriguing, noirish nightmare images (many of which are later used in the opening credits of the show) that are supposed to represent Kimble's recurring dreams about Gerard. Written by Stuart Jerome, directed by Chris Nyby.


GLASS TIGHTROPE
December 3, 1963
(12) Kimble witnesses Leslie Nielsen kill someone in a parking lot. But an innocent bystander is instead arrested, and Leslie doesn't come forward to clear things up. So Kimble risks his own neck to coax the real killer into confessing. Written by Robert C. Dennis, directed by Ida Lupino.


TERROR AT HIGH POINT
December 10, 1963
(13) A construction boss (Jack Klugman) tries to patch up his marriage with Kimble's help. Written by Peter Germano and Harry Kronman.


THE GIRL FROM LITTLE EGYPT
December 17, 1963
(14) Kimble is hit by a car in San Francisco. This gives him an extreme case of flashback-itis. He relives his murder trial, and events of the night of the murder of his wife (September 17, 1962). At the trial, Gerard vows that he left no stone unturned in looking for the one-armed man. Meanwhile, back in the present, the driver of the car that hit Kimble is a woman who is having an affair with a married man. Kimble shows her the error of her ways, and she ends the affair. The high point: at a cocktail party, someone asks Kimble what his opinions are about capital punishment. Written by Stanford Whitmore.


HOME IS THE HUNTED
December 24, 1963
(15) Old family loyalties could mean the end for Kimble as he tries to help out his ne'er-do-well brother back in his hometown. Written by Arthur Weiss.


GARDEN HOUSE
December 31, 1963
(16) The stakes are high for Kimble when a family fortune is on the line. Written by Sheldon Stark.

COME WATCH ME DIE


January 7, 1964
(17) Directed by Laslo Benedek (The Wild One), featuring Bruce Dern as an angry farmer, and a busload of wooden character actors. Kimble is recruited for a posse in Nebraska, and he has to help transport an accused murderer (Robert Doyle) to the county seat so the man can stand trial. On the way, the rest of the posse drinks a lot of moonshine or something and turns into a lynch mob, but Kimble protects the prisoner, who seems pretty innocent until suddenly, when Kimble's back is turned, he reveals himself to be a demonic sociopath who was only pretending all along. But Kimble wrestles him to the ground and turns him over to the sheriff, who is so impressed with Kimble's sense of fair play that he offers Kimble a job as a cop! Much is made of the similarities and differences between Kimble and the prisoner, who is rather like Kimble's evil twin. Written by Stanford Whitmore and Perry Bleecker.


WHERE THE ACTION IS
January 14, 1964
(18) In Nevada, Kimble becomes a pawn in the feud between a tyrannical hotel owner (Telly Savalas) and his daughter. Features a cameo appearance by the one-armed man. Written by Harry Kronman.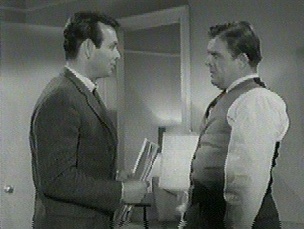 SEARCH IN A WINDY CITY


January 21, 1964
(19) Written by Stuart Jerome. In Chicago, Illinois, Kimble teams up with Pat Hingle, a newspaper columnist who offers to help him find the one-armed man. They get a really crappy artist's rendering of the one-armed man, which nevertheless is good enough to generate a few leads. One of Pat's underworld contacts has seen the man in question, but the police take the contact into custody just before he is about to get in touch with the one-armed man. Nan Martin plays Pat's lush of a wife, who at a critical moment is too drunk to tell Kimble the crucial information that the one-armed man is leaving town. Kimble finds out eventually, but when he runs over to the bus depot to try to intercept him, he's a few fateful seconds too late. He does catch a glimpse of the one-armed man through a bus window, though. Meanwhile, Gerard has gotten wind of what Kimble's up to, and he's putting pressure on Pat to rat on Kimble. Pat's boss also wants this, because if Kimble is captured, the newspaper can do an exclusive story about it and improve its circulation. Pat is down on his luck as a columnist, needs a big story, so he reluctantly agrees, and Gerard's men take up positions around Pat's apartment, waiting to close in on Kimble when he shows up. But at the last second, Pat warns Kimble that it's a set-up, and Kimble manages to escape by hiding in the basement. The story has many suspenseful moments, including an impressionistic depiction of Kimble's fears, in a scene evoking the capture of Dillinger. The conclusion is touching; Hingle and Martin both create vivid, memorable characters. Kimble though in this story is reduced to being merely a pawn and a victim. In his next appearance, Pat plays a bad guy.


BLOODLINE
January 28, 1964
(20) A dog breeder's terrible family secret puts Kimble's freedom on the line. Written by Harry Kronman.


RAT IN A CORNER
February 4, 1964
(21) A two-bit thug (Warren Oates) puts the stranglehold on Kimble. Written by Sheldon Stark and William Morwood.


ANGELS TRAVEL ON LONELY ROADS
February 18 - 25, 1964
(22 and 23) Kimble is thrown together with Eileen Heckart, a nun who is having a crisis of faith. Together they try to coax the nun's ancient car across the mountains from Nevada to California, pursued by cops who are onto Kimble. The nun is rather like Kimble's alter ego; while he is a fugitive from man, she is a fugitive from God. At one point, the nun is watching some cop show on TV in a motel, and marvels at how the police are always shooting first and asking questions later. What if the suspects they are chasing turn out to be innocent? The story, written by Al C. Ward, is cleverly plotted and there's some suspense, plus some moments of verisimilitude amidst the hokey, cloying sentiment. The huge hand of Fate is very much in evidence. Eileen Heckart returns in the color season as The Dying Nun.


FLIGHT FROM THE FINAL DEMON
March 10, 1964
(24) Kimble runs with Ed Nelson, who plays a sort of anti-Kimble; though someone died at his hands, he was acquitted of any wrongdoing, but now pursues himself with obsessive feelings of guilt. Meanwhile, Carroll O'Connor plays a sheriff with a long memory for faces, who keeps trying to figure out where he's seen Kimble before. Kimble fails to help Ed, who dies in the end. Kimble manages to escape from Carroll's clutches, but there's not much suspense involved. Written by Philip Saltzman.


TAPS FOR A DEAD WAR
March 17, 1964
(25) Kimble's army past comes back to haunt him in the person of a disfigured guy. Written by Harry Kronman and Merwin Gerard.


SOMEBODY TO REMEMBER
March 24, 1964
(26) Kimble concocts a daring scheme to throw Lieutenant Gerard off his trail... for good! With Gilbert Roland as a dying guy trying to help Kimble, plus beautiful Madlyn Rhue. Written by Robert C. Dennis.


NEVER STOP RUNNING
March 31, 1964
(27) Claude Akins is a football player gone bad. Now he's the leader of a band of crooks who have kidnapped a chubby young rich boy and are holding him for ransom. The kidnappers force Kimble to help the kid when he takes ill, but when Kimble tells the kidnappers that the kid has to be brought to a hospital or else he'll die, they don't listen. Eventually Kimble manages to get them all to the hospital, and in the exciting climax, the boy staggers desperately across the front lawn towards the entrance of the emergency room as Kimble battles to keep Akins from snatching him back. In the epilogue, Kimble walks off into the landscape dramatically. Written by Sheldon Stark.

THE HOMECOMING
April 7, 1964
(28) In Georgia, Shirley Knight is a young woman who has just returned home from a hospital, after witnessing a terrible attack by a pack of dogs; Gloria Grahame plays the scheming stepmother determined to drive the daughter out of the house and back into the hospital, by capitalizing on the daughter's fragile emotional state and her intense fear of the past. Kimble, of course, catches on, and exposes the stepmother's fraudulent scheme. Written by Peter Germano.


STORM CENTER
April 14, 1964
(29) Kimble weathers a hurricane to avoid capture. He is at the mercy of a woman who he angered back in Stafford by refusing to perform an (at that time, pre-Roe v. Wade, illegal) abortion for her. Kimble is an outspoken pro-lifer, according to this and several other episodes. Written by George Eckstein.


THE END GAME
April 21, 1964
(30) After seeing Kimble in the background of a newspaper picture, Lieutenant Gerard moves in for the kill, but his plans are foiled by a pair of kooky old geezers. This is as close as the series ever comes to comedy, but many of the episodes that are trying to be serious are actually a lot funnier than this one. Written by Stanford Whitmore.



---

Back to HOMEPAGE OF THE HUNTED <http://unchance.net/Fugitive>

---
Created and maintained by Joseph Rosenzweig, fugitive-owner@yahoogroups.com