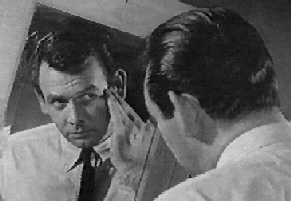 A. K. A.
No fugitive in the annals of American crime has had so many aliases as Dr. Richard Kimble; hardly a week goes by in his epic flight without his adopting another nom de guerre. Somehow, he manages to keep them all straight and never use the same one twice, a prodigious mental feat even for a man who, as a doctor, has had to memorize the name of every bone in the human body plus all the tendons and ligaments. A sample of these pseudonyms is given below, thanks in very large part to
Sabine Weber
:
Al Fleming
SEE HOLLYWOOD AND DIE
Ben Rogers
COME WATCH ME DIE
Jim Fowler
THE WITCH
George Blake
SEARCH IN A WINDY CITY
George Browning
THE GIRL FROM LITTLE EGYPT
Larry Talman
TICKET TO ALASKA
George Porter
NIGHTMARE AT NORTHOAK
Joseph Walker
SMOKE SCREEN
Paul Beaumont
TERROR AT HIGH POINT
Harry Carson
GLASS TIGHTROPE
Dan Crowley
RAT IN A CORNER
Al Dexter
FLIGHT FROM THE FINAL DEMON
Steve Younger
THE END IS BUT THE BEGINNING
Joe Walker
MAN ON A STRING
George Eagen
WINGS OF AN ANGEL
Ed Morris
A.P.B.
Richard Clark
NICEST FELLA YOU'D EVER WANT TO MEET
Nick Phillips
THIS'LL KILL YOU
Jerry Sheldon
WHERE THE ACTION IS
Frank Borden
MAN IN A CHARIOT
Nick Walker
ANGELS TRAVEL ON LONELY ROADS
Frank Jordan
TIGER LEFT, TIGER RIGHT
Paul Kelly
TUG OF WAR
Paul Hunter
CORNER OF HELL
Ben Horton
BRASS RING
Eddie Frey
SCAPEGOAT
Bill Douglas
EVERYBODY GETS HIT IN THE MOUTH SOMETIME
Harry Reynolds
MAY GOD HAVE MERCY
Chris Benson
SET FIRE TO A STRAW MAN
Fred Tate
CONSPIRACY OF SILENCE
Frank Whistler
STROKE OF GENIUS
Jack Davis
THE 2130
Jack Fickett
THE CHINESE SUNSET
David Morrow
THE LAST OASIS
Jack Anderson
SECOND SIGHT
Ed Sanders
DEATH IS THE DOOR PRIZE
Paul Miller
A CLEAN AND QUIET TOWN
Ben Russell
THE BLESSINGS OF LIBERTY
Jim Corman
JOSHUA'S KINGDOM
Bill Shakespeare
TO RUN OR NOT TO RUN
Carl Baker
THE SHARP EDGE OF CHIVALRY
Harry Robertson
NOBODY LOSES ALL THE TIME
Pete Allen
APPROACH WITH CARE
Eddie Carter
RIGHT IN THE MIDDLE OF THE SEASON
Tom Anderson
RUN THE MAN DOWN
Bill March
THE ONE THAT GOT AWAY
Jim Parker
THE OTHER SIDE OF THE COIN
Russell Jordan
THE EVIL MEN DO
Tom Marlowe
THE BREAKING OF THE HABIT
Steve Dexter
CONCRETE EVIDENCE
Gene Tyler
THERE GOES THE BALLGAME
Jerry Sinclair
THE IVY MAZE
Bill Garrison
GOODBYE MY LOVE
Tony Maxwell
THE SAVAGE STREET
Charlie Farrell
DOSSIER ON A DIPLOMAT
Stan Dyson
WALLS OF NIGHT
Ben Lewis
THE SHATTERED SILENCE
Frank Davis
THE JUDGMENT
...
---

Back to HOMEPAGE OF THE HUNTED <http://unchance.net/Fugitive>

---
Created and maintained by Joseph Rosenzweig, fugitive-owner@yahoogroups.com